New Valley Airport 120 miles west of Luxor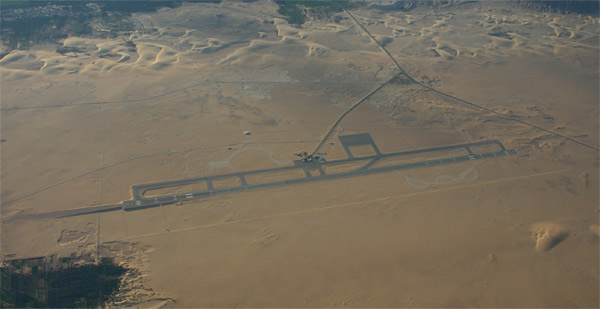 The route I'm given is to New Valley, then a 90 degree turn, about 120 added miles, but direct requests are met with "no." The enroute time expands to about 8 hours, but it passes quickly.
The Nile valley is ahead, and they give me a visual to 2 R. The haze and setting sun make the airport impossible to see, but the plane rolls out onto final, and the runway is ahead.
I am directed to parking, where I am met by a handler. We fuel the aircraft. There is so much help available, three firemen, two soldiers, three fuelers, a bus driver, a couple of helpers and everyone wants a word with me.
The trip was just over 8 hours, 98 gallons used, about 1300 nm.